Tiny Amber Rayne takes on
massive 10 inch BBC, hardcore
anal, brutal deepthroat,
multiple orgasms! | Amber Rayne | Matt Williams | Jack Hammer
Jan 1, 2014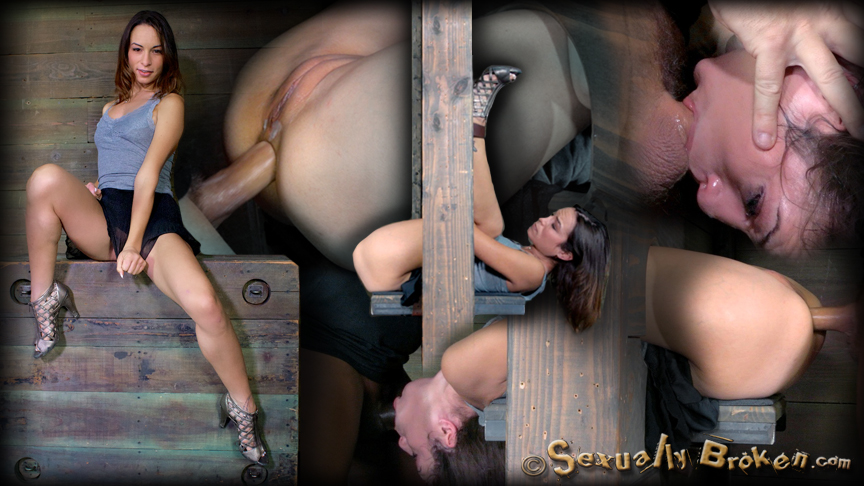 Sexuallybroken loves Amber Rayne. She is a tiny little ball of cheerful pervert, and a legendary anal queen. Most girls you can break down a little, push them just far enough to give them a wakeup call that you don't coast through a Sexuallybroken shoot. Not Amber. She takes everything you fling at her with a wide-mouthed grin and asks for more. She is a sexual champion.

Today we are wedging our anal queen into a wooden wall, face sticking out on one side and ass sticking out on the other. The wall assures that she can not see what is happening on the other end of her. She is just a perfect flawless ass hanging out, waiting to be used. Anyone could just walk right up and use whatever hole they wished. Which is exactly what we do. Mouthhole on one end, ass and pussyhole on the other. Two different dicks, three different holes. We love options around here.

We slide up in and own every inch of her pink flesh. Amber gasps in pleasure as both ends are stuffed to the hilt. Balls deep down the throat, balls deep up the ass. She sucks dick as well as she does anal, and makes the cock disappear like a magician with a rabbit. Drool and deep back of the throat spit slide out of her facepussy as the dick slides in. Amber is brutally Chinese finger trapped by massive cock. The relentless pounding is merciless and effective and she starts to sink into sexual subspace.

You can see the shift. The moans, the multiple orgasms as the vibrator grinds away, the cock lodged deeply in her pussy, the not knowing what hole is getting fucked next, the bondage, all combine to break Amber down into a grinning, sex-dazed zombie. We fingerblast a few more orgasms out of her dripping wet hole. Both ends of this slut are soaked and sticky. Amber dangles in the wall, face hanging upside down and coated with her own juices, a huge smile dancing across her face. This one is a trooper, no doubt about it…
Tiny Amber deepthroats 10
inches of black cock, Rough
ANAL sex and bondage, brutal
orgasms! | Amber Rayne | Matt Williams | Jack Hammer
Dec 9, 2013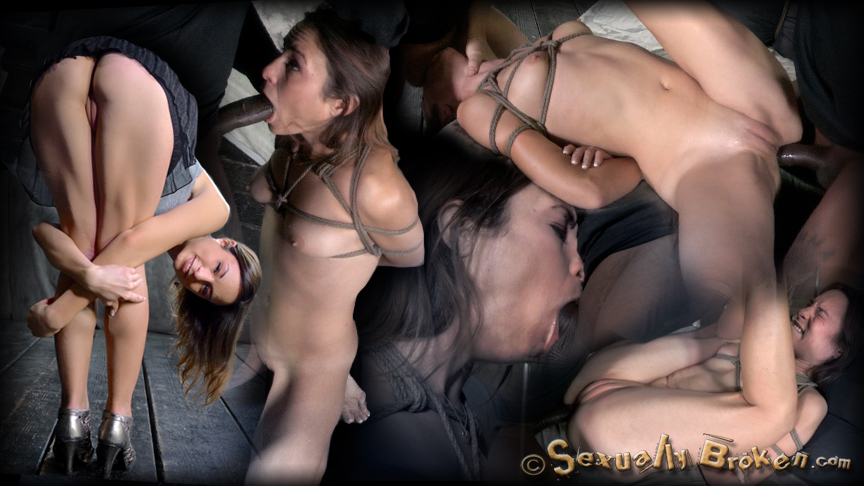 Tiny little Amber Rayne only LOOKS like the girl next door. The truth is that behind the mild looking exterior lies a wanton filthy unapologetic pervert willing to try just about anything. We don't really have a chance in hell of sexually breaking this girl, today will be a walk in the park for her, but we are going to have fun trying. We start with our little pervert on her knees bound in a simple and classic chest tie beside the legendary Sexuallybroken bed. Her mouth hole is at just the right height for the 10 inches of furious black thunder that walks up and owns her skull.

Amber rises to the challenge and brings her A-game to the deepthroating. Like a magician making a rabbit disappear, Amber makes every inch of the dick vanish down her well-trained gullet. Enough with the warmup. Shifting quickly, we throw her bound body onto the bed and proceeds to really lay into her. Splaying her legs open wide, we own her hole and then rag doll fuck her all over the bed, flipping her around to get access to whichever end we desire. Without giving Amber a chance to get on top of it or catch her breath, a second dick is added to the mix. With a cock on both sides of her, Amber is turned into a porn slut sandwich. Teamwork for the win.

Not content with using every inch of the bed while Amber's bound holes are powerfucked into next week, we add more rope to the mix just to really drive the point home how completely screwed she is. Her ankles are crossed over, tied down and folded up over her head. Once she is folded in half like a piece of paper, we write our name on the walls Amber's pussy with our cock. Unable to move or shift for even a hint of relief, all tiny Amber Rayne can do is limply endure every inch of BBC we are dishing out. The added vibrator sends Amber rocketing into sexual subspace and her eyes fog over in bliss.

We might not of sexually broken this little slut, but we most certainly got her attention. If the wide grin dancing across her sex stoned face is any indication. You are welcome my dear.
Amber Rayne assfucked by 2 big
dicks while folded in half and
restrained in strict metal
bondage! | Amber Rayne | Matt Williams | Jack Hammer
Nov 22, 2013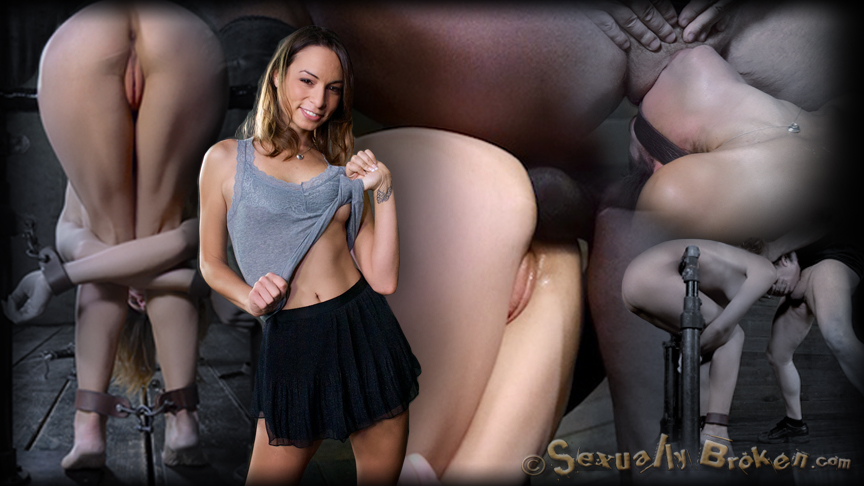 Amber Rayne is a natural born pervert. If she wasn't doing porn she would still be flying her freak flag high, the fact she can get actually paid to do what she truly loves is just icing on the cake. In addition to being a crazed sex monkey, Amber is also unusually flexible. Today we are going to push that flexibility to its limits.

In a setup designed to teach Amber the true definition of Sexuallybroken, we start with her blindfolded and bolted down to the wooden stage, a vibrator drilled down between her legs. The wooden post behind her ensures she has zero wiggle room. As the vibrator sends waves of pleasure through her bound body, the cock train gets started on her mouth hole. No mercy, no respite, just brutal repeated pounding as the dicks reshape the back of her throat. Amber is a dick sucking champion though, and even with her neck cranked back she manages to deep throat balls deep. It is obviously time to up our game.

Moving quickly, we unshackle her and move her over to a metal pipe frame. Then we simply jackknife her in half and shackle her back in place. Amber is reduced to wearing her knees as earmuffs and her ass is completely, helplessly exposed. We don't often do anal here on Sexuallybroken, but for a legendary anal whore like Amber, it would be a crime to pass up on that well-trained hole. 10 inches of massive black thunder walk right up and own her ass. The look on Amber's face can only be described as bliss.

We try, we really do, but it doesn't seem like it is possible to break a girl like Amber. Bent in half in one of the most uncomfortable positions possible while almost a foot of cock penetrates her colon and all Amber does is ask for more with a sex dazed grin dancing across her face. You win this round Amber, it is back to the drawing board for us.
Skinny girl with long legs a
deep throat and tiny ass is
sex destroyed, brutal bondage
real orgasms | Amber Rayne | Matt Williams
Nov 14, 2012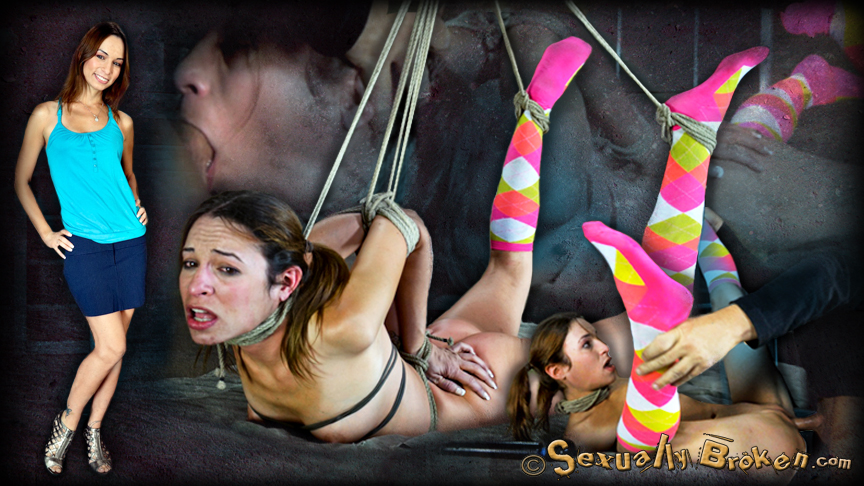 Amber Rayne is back and this time she brought pig tails and cute socks! Lets take that cute, sexy, tiny ass, long legs, and deep throat and fuck it all up, what do you say?

The first thing you will notice, if you have any understanding of how tough and difficult bondage really is, is that Amber's elbows are tightly bound behind her back touching. Not a comfy box tie, but a brutal elbow tie.

We start by sliding our cock in and out of Amber's throat. Notice we didn't say mouth, that's too easy. We are plunging deep into this girl's throat. After we turn Amber all loopy, we flip her tiny body around and slam the cock ball deep into her tight little pussy. Within seconds she cums. Happens every time after a long, brutal deep throat session, every time.

We lead Amber though a sexual gauntlet of devastation. We fuck her rough and hard, she cums, we toss her over and deep fuck her throat, we toss her around again and fuck her ass. She cums more, we toss, we fuck her throat, she flashes, struggles but we are relentless. We then fuck her pussy, again she cums.

Amber is completely helpless. Cum drunk, she finds herself deep in subspace and still severely bound. At this point she is nothing more than but a sex puppet. We use each hole and use it well. In the end we vibrate out a few more screaming orgasms then finger blast her to one massive squirting climax. We hogtie her and her cute sock and tighten the bondage to a Category 4 level of pain. Amber has liquid seeping out of ever hole as she is left to languish, awaiting our return..
Brutally Deep Throated, Pussy
Fucked, Finger Blasted, Made
to Squirt! Elbow Suspension
from HELL | Amber Rayne | Matt Williams
Oct 22, 2012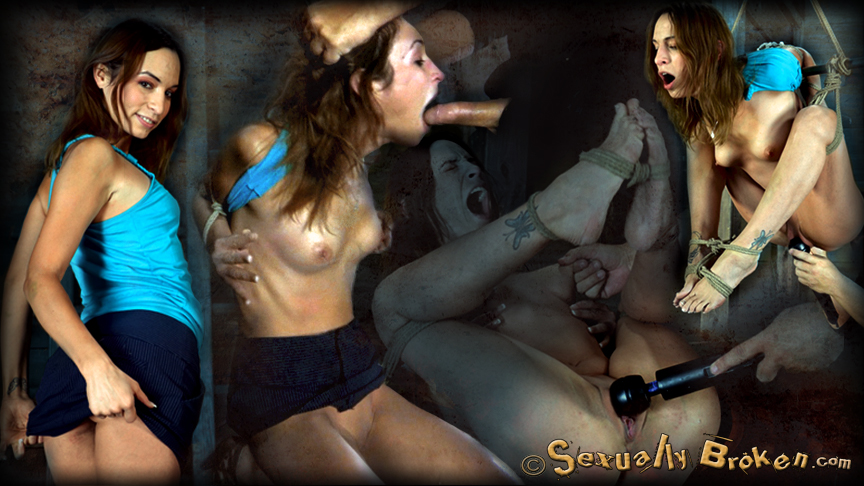 Welcome back the amazing Amber Rayne to Sexually Broken, the fastest growing sex and submission web site on the net! If every person on planet had the sexual attitude of Amber, Men wouldn't have time to fight wars...

This was the Meet & Greet with Amber, it is the first scene we do for the day. It's where we create bondage while you watch. All the tying is done on screen, as the scene flows, morphs. These are the most realistic BDSM scenes on the 'net. The rigger/handler is bringing the cock. Nowhere else on the 'net do you find that. All other sites have a director tie up the girl and a porn star walks in to fuck her, in other words, 100% staged and FAKE.

We start by binding Amber's elbows tightly together, then flogging her arms. We abuse her hard nipples, and strip her. We make her take off her own shoes, she struggles and we punish her for slowness. Amber loves cock deep in her throat. Normally she controls that situation, not today. We roughly deep throat that pretty face into subspace. Amber struggles, we are abusive with the cock. She is skull fucked like she has never been skull fucked before.

Amber is now pretty loopy. We knock her down and bind a rod though her elbows and attach her knees to it, and her pretty feet are bound. We rock her on to her back and she finds herself completely vulnerable, legs spread wide, elbows remain tightly bound behind. We finger blast Amber's "G" spot, and within seconds she is a screaming, squirting, cum bot!

We aren't done. We sit Amber up and attach a pulley system to the rod, suspending Amber by her bound elbows and legs. The bondage is brutal, the model suffers. We pull out the vibrator and make Amber cum again and again. She is lost deep in subspace, we let her float there, alone and in a Category 5 suspension.